Dictador ArtHouse Spirits DAO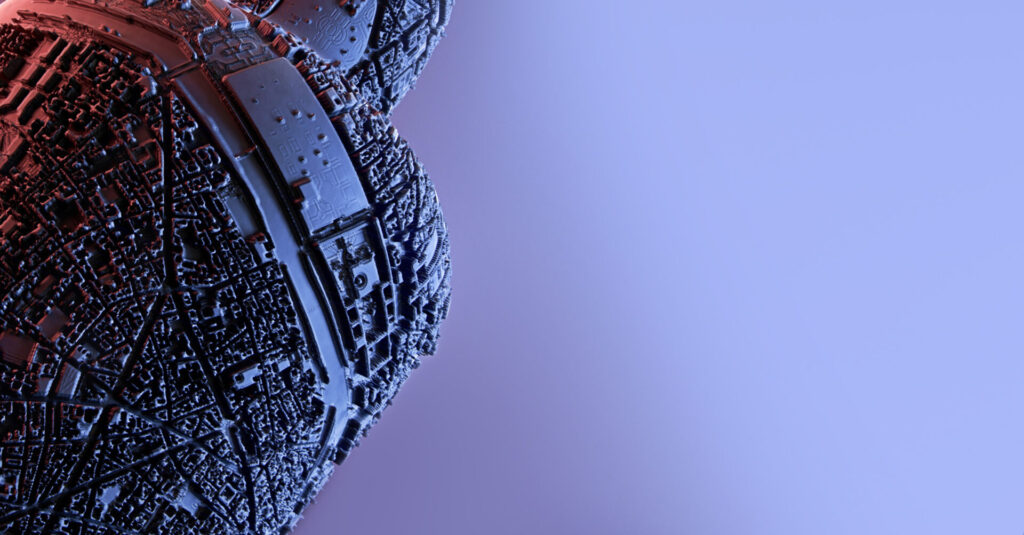 Our client – Dictador
Dictador is a highly regarded fine & rare rum producer operating since 1913 and a winner of many prestigious awards. It holds the last portion of an ultra-mature rums in the world. The spirits age in its possession reaches 45 years. Since 2012, the valuation of investment grade rums offered by the Dictador brand has increased 17-fold while maintaining a ROI of almost 60%.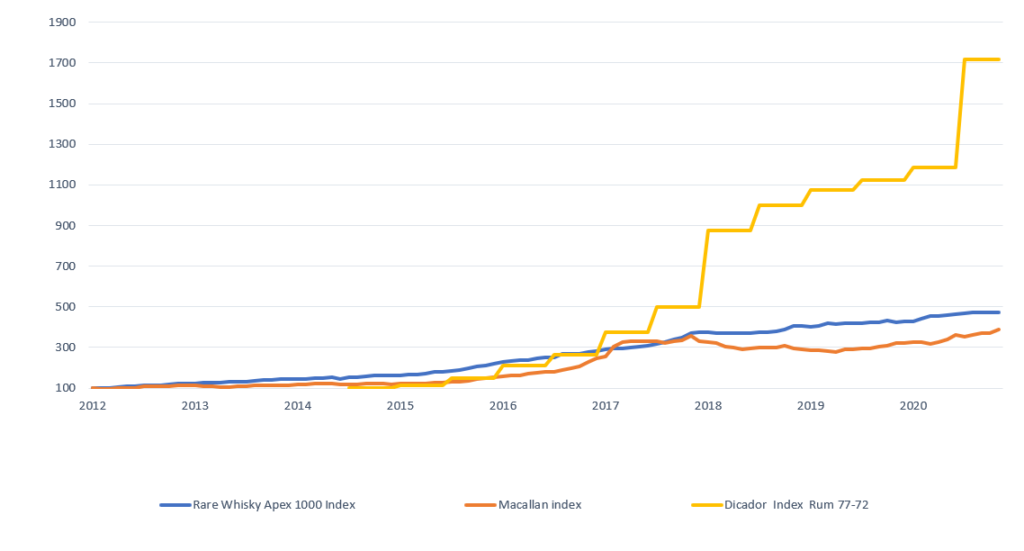 Among the brand's recent successes are the record valuations achieved for single bottles of rum in 2021. Liquors from the Orlinski 5 Decades series reached €40,000 and $100,000 at their auctions. In the same year, the Dictador brand made its debut on the NFT market. An auction of 10 unique bottles from the Dictador Generations en Lalique collection of rum was held. All the bottles sold out in just a few minutes.
Dictador rum brand and its market advantages
A documented heritage of Colombian rum production dating back to 1913.
Award-winning products: gold medals at the World Spirits Awards, San Francisco World Spirit Competition, Miami Rum Festival, Tokyo Whiskey and Spirit Competition, etc.
The last batch of ultra-mature rum (aged up to 45 years).
A leader in the mature rum category in investment grade spirits.
High visibility thanks to exposure in premium shop chains worldwide (e.g. Harrods, Sherry Lehman).
Collaboration with other distilleries and wineries resulting in unique products.
High-quality bottles and packaging protected to the highest standard.
An example member of a niche market segment with a high growth potential.
Our client's main goal is to secure a leadership position in the fine & rare rum segment. Continuing with its image strategy, Dictador aims to achieve the status of the most desirable luxury brand of spirits. Reaching new, loyal customers is therefore an important factor. Dictador intends to do in conjunction with new technologies and innovation.
Conclusion from client's goals analysis
We proceeded the first part of the analysis with a careful consideration of our client's expectations. First of all, we've taken a deep dive into its market environment. The processes which have taken place in the luxury whisky market are mirrored in the luxury rum market. According to analysts' prediction, this market segment is set to grow dynamically in at least next 8 years. Most optimistic prognostications assumes a 20-fold rise in that period. We considered this fact as one of the key factors in the project's realisation.
Traditional luxury spirits trading model welcomed us with its disadvantages. It is characterised by a low participation of small investors and a high entry threshold. Expensive spirits attract mainly bigger players, which narrows the potential of increasing the customer base. Our investigation uncovered a second main disadvantage. It turned out that the time to match sellers with bidders is usually very long. Selling investment grade alcohol is time-consuming and requires reaching out to a very specific audience. We knew that these disadvantages were to be addressed, if we wanted to carry out the Dictador project to the best of our abilities.
Next we've proceeded to analyse the client's previous market actions. This allowe us to better understand its profile. Dictador is a brand based on the tradition and history, but not shying away from the new solutions. It offers its clients an unobtainable products connected to history and cultural heritage. Meanwhile, security features used to make them are on the highest possible level. We've assessed, that both of these areas have a positive impact on an investment potential of spirits.
Determining our target audience was also an important part of our analysis. Being a part of a luxury brand such as Dictador is an unique experience. In our opinion it's similar to an experience offered by participating in the cryptocurrency market. Noticing that these areas have a lot in common, we've decided to attract investors from the crypto-world as well. We've specified that the project will be directed to a young, HMV, technologically savvy and dynamic people. We were primarily interested in individuals oriented to innovation, keen on expanding their portfolios with alternative investments.
Realisation concept based on NFT
Using the results of our analysis, we have identified the main areas for the project implementation:
the creation of a developing project that grows with the market,
addressing the shortcomings of the traditional luxury alcohol trade model,
extending our client's reach to new audiences,
continuing the image strategy of the Dictador brand – innovative but deeply rooted in history and tradition,
creating a community of investors,
offering an unique experience.
Relying on our expertise in the cryptocurrency area, we set ourselves to find the best solution that meets all of the above.
Tokenisation of luxury spirits
NFT, or non-fungible tokens, are a form of digital asset. They can represent physical or digital goods, constituting as a kind of property deeds. Thanks to the NFTs, this ownership can be easily sold, bought and transferred. There's also a possibility to represent one asset with multiple tokens. This allows smaller investors to participate. NFTs are most prominent in the art world. They've revolutionised the world of digital creators. They have finally obtained an ability to sell their works in an transparent and readable manner. More and more areas are turning their eyes to NFTs. Nowadays, they're representing virtually any type of luxury goods – spirits included. On Polish market, the examples are brands such as Okovita and Six Seasons.
However, current models appearing on the market did not meet all our expectations. Especially in terms of community building. The issued NFTs allowed for the financing of alcohol production and its holders received additional benefits during the course of spirits making. They could cash those in or keep them, anticipating an increase of their value. Judging this model as too static, we've looked for other solutions.
DAO
Blockchain is not only about investments. It also proposes a number of models for organisation. The idea behind cryptocurrencies can be extended to communities. DAO is short for decentralised, autonomous organisation. Its functioning is based on the blockchain. Its mode of operation, decisions and resources are stored by it. First DAOs emerged in the world of cryptocurrencies in the year of 2016. They have a proven value, bringing together like-minded people with democratic processes and self-agency in mind. DAOs help to exchange ideas, conduct online and live meetings, and educate in the investment field. Additionally, this kind of organisation is also self-sufficient.
Project realisation – ArtHouse Spirits DAO
The living organism od the DAO turned out to be ideal to meet all our design goals. Drawing on our own and our client's extensive experience, we've recruited the VIPs to act as mentors for the newfound community. In order to offer our audience an unique experience, we've opted for meetings with world-class leaders and experts. Aside of the initial state of the project, we've put its fate into its participants. We've also established the ArtHouse Spirits Treasury, giving each of our customers a share in its constantly increasing value.
ArtHouse Spirits Treasury
All income from the sale of NFTs will be used to purchase the assets to build the ArtHouse Spirits Treasury. These assets are casks and bottles of luxury Dictador rum. They have been selected by world-class experts. The increase in their investment value is guaranteed, and the purchase process is transparent for DAO members. Some of the spirits will be purchased at below market price, as a result of a beforehand reservations. Once the collection is complete, only Membership NFT holders will be able to decide on its future.
The anticipated initial value of the ArtHouse Spirits Treasury is $20,000,000. The exact figure will be known once the minting and token sale processes are completed. The valuation of the assets building the Treasury will be monitored throughout the project. If they do not reach the certain ceiling, the decision as to their continued stay in the Treasury will be entrusted to the members of the DAO. A vote on the liquidation of the assets in question will be ordered.
This mechanism ensues the premise of the Treasury as a pool of luxury goods with an ever-growing value. If a decision is made to sell the Treasury spirits, DAO members will have a portion of their investment returned to their cryptocurrency wallets. It forces that only the most profitable long-term assets will remain in the Treasury.
During the course of the project, Treasure resources can be further increased. The first way is through an agreed issue of Treasury NFTs. The second is quarterly votes on the allocation of 50% of the royalties from the sale of all NFTs.
Summary
Executing a project for a client in the luxury spirits industry was a challenge that required proper preparation. Starting with an analysis of the goals, going through market research and similar projects, we clarified our own path. It wouldn't be possible without reaching for expert knowledge. Our experience in the cryptocurrency industry allowed us to implement an unique project.
By combining the prestigious DAO club with the tokenisation of spirits, we have created a platform for years to come. Our intention is to allow the ArtHouse Spirits community to grow in its own way and pace.
The project reflects the values represented by our client, which combines innovation with tradition. By creating ArtHouse Spirits we wanted to show the enormous value of building community and how modern technology can support it. By putting measures in the hands of DAO members, we allowed them to decide for themselves, believing that this trust will pay off in the future.